Description

ASUS B250 MINING EXPERT
Refurbished by BitcoinMerch.com.
An ATX motherboard for cryptocurrency mining with 19 PCIe slots
Maximize your mining connectivity and speed with 19 PCIe slots (1 PCIe x16 slot + 18 PCIe x1 slots). All the 19 slots are divided into three groups, with each group having a dedicated 24-pin for reliable power performance. Each slot provides real-time status indication for easy monitoring and troubleshooting.
For maximized stability and reliability, this motherboard incorporates 5X Protection III hardware-level safeguards with SafeSlot Core, LANGuard and Overvoltage Protection to shield your components from anomalies. And voltage-stabilization capacitors provide steady voltage from your power supply units to your GPUs. All these result in stable, trouble-free operation which translates into maximized cryptocurrency output.
Based on Intel B250chipset, the ASUS B250 MINING EXPERT supports 6th/7th generation Intel Core/Pentium/Celeron processors in LGA1151 package.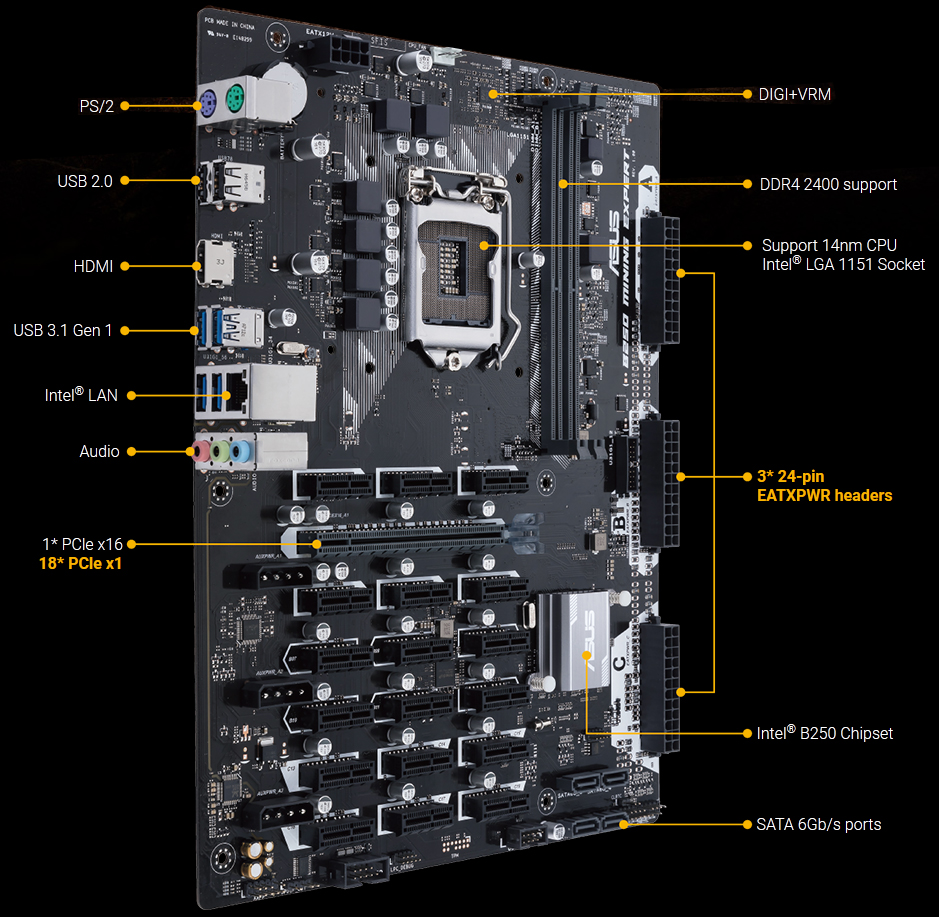 Designed for Crypto Mining
World's First 19-Slot Mining Motherboard
Max out your megahash rates!
ASUS B250 Mining Expert is the world's first mining motherboard to feature 19 PCI Express (PCIe) slots. With 18 PCIe x1 and one PCIe x16 slots on board, plus three zoned ATX12V power connectors, B250 Mining Expert lets you run up to 19* NVIDIA or AMD GPUs in parallel to max out your megahash rates!
* B250 Mining Expert currently supports a total of up to eight NVIDIA and AMD GPUs. An unlimited number of GPUs will be supported following a driver update that is planned for Q4 2017.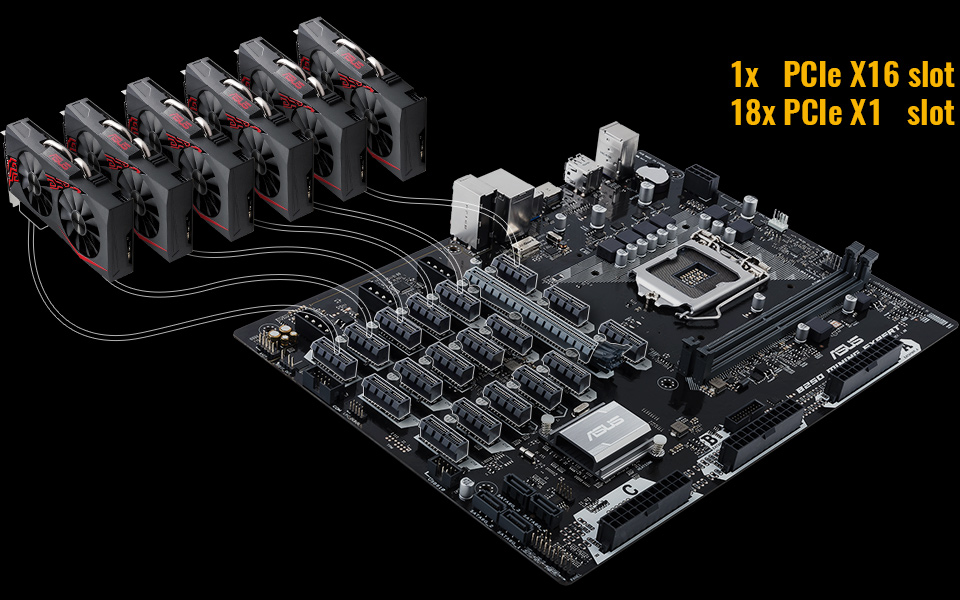 Triple-ATX12V Power Delivery
Engineered to deliver the power your graphics cards need
B250 Mining Expert has been engineered to provide all the power your GPUs demand, cleanly and efficiently. The 19 PCIe slots are grouped into three distinct zones, each powered by its own, dedicated 24-pin ATX12V power connector — reducing wiring complexity and ensuring ample power delivery to all PCIe slots.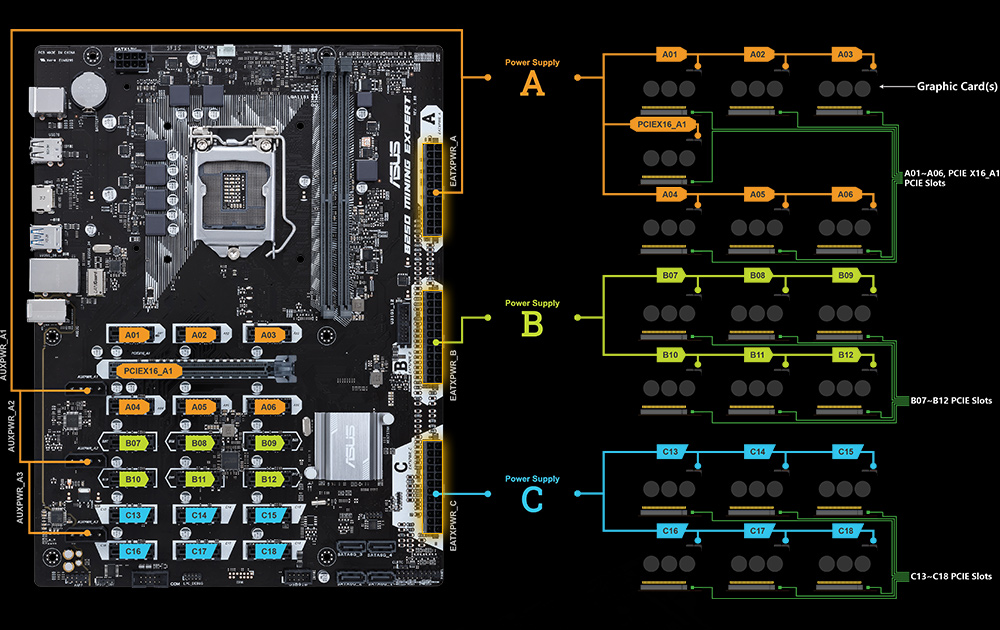 Voltage-Stabilization Capacitors
Stable, low-noise power for your GPUs
Stable, low-noise power is a serious benefit for 24/7 cryptocurrency mining. That's why Asus has engineered B250 Mining Expert with 19 decoupling capacitors. These quality components smooth voltages and reduce high-frequency noise, so your GPUs get the good-quality power delivery needed for reliable operation.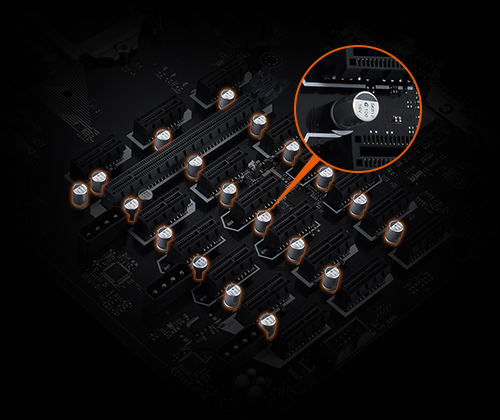 PCIe Slot State Detection
Easy management and debugging
B250 Mining Expert has built-in smarts to show the status of each and every graphics card from the moment you power up. The moment the Power-On, Self-Test (POST) screen appears, you'll see a graphical representation of the status of every slot — so you'll know instantly if there's a problem or whether your mining operation is good to go.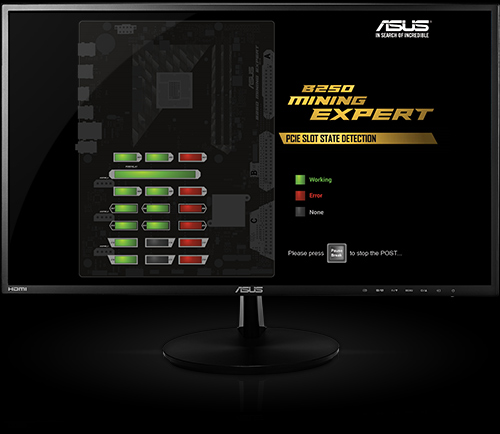 Mining Mode BIOS Optimization
Simple setup
Unlike some rival boards, B250 Mining Expert has a special Mining Mode that's enabled by default, removing the hassle of having to make BIOS-level changes that are necessary to maximize mining performance. Mining Mode sets the PCI Express speed to PCIe 1.0 and disables the Compatibility Support Module, so you get the best stability and compatibility right out of the gate.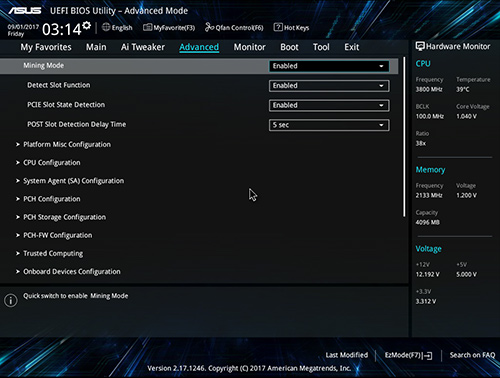 Best Network Performance
Intel Gigabit LAN and ASUS LANGuard
B250 Mining Expert is equipped with Intel Gigabit Ethernet for the best throughput and lower CPU overhead, ensuring optimum performance from your mining rig.
ASUS-exclusive LANGuard employs advanced signal-coupling technology and premium surface-mounted capacitors to improve throughput — protecting the B250 Mining Expert from lightning strikes and static electricity.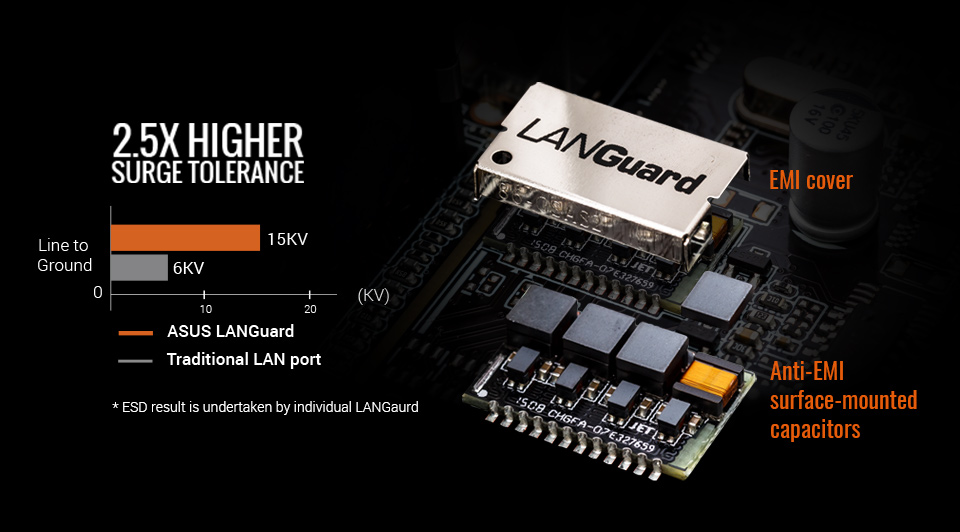 More Profitable Mining
Money-saving
B250 Mining Expert boasts unrivaled cost-effectiveness. The ability to run up to 19 GPUs from one board eliminates the costly investment in additional CPUs, memory and drives that would be required to create equivalent mining resources using competitor motherboards — so you spend less to mine more.

Higher hash rates
With so many slots available, B250 Mining Expert gives you the means to push for higher hash rates. With 16 slots occupied, Asus' laboratory tests generated results of up to 342MH/s* — and up to 407MH/s* with 19 GPUs in operation!
* Performance depends on precise hardware configuration and operating environment. Actual results will vary.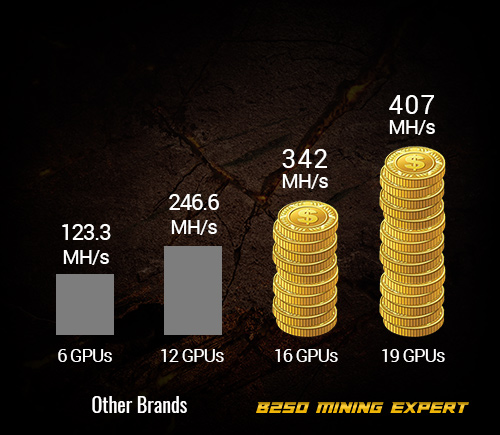 Lower TCO
More hashes mean more cryptocurrency creation — and that means more money from your mining operation. Compared to some 6-slot motherboards, B250 Mining Expert delivers a TCO saving of up to US$1.83* per megahash-generation potential.
* Saving depends on precise cost of hardware and operating environment. Actual results will vary.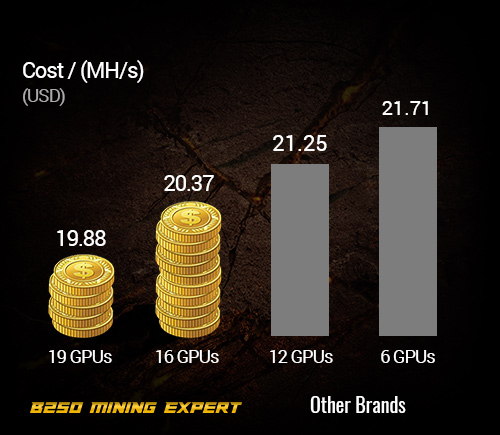 Intel CPU and Chipset features

Intel B250 Chipset
The Intel B250 is a single-chipset design that supports 7th and 6th Generation Intel LGA1151 Core i7 / Core i5 / Core i3 / Pentium / Celeron processors. It provides improved performance by utilizing serial point-to-point links, allowing increased bandwidth and stability. It natively supports up to six USB 3.0 ports, six SATA 6Gbps ports, and PCIe 3.0 lane speed support for faster data retrieval. The Intel B250 chipset also supports iGPU functionality, so you'll enjoy the very latest Intel integrated graphics performance.

Ready for 7th Generation and 6th Generation Intel LGA1151 Core i7/Core i5/Core i3/Pentium/Celeron processors
The ASUS B250 Mining Expert motherboard supports 7th Generation and 6th Generation Intel Core i7 / Core i5 / Core i3 / Pentium / Celeron processors in the LGA1151 package. Integrated graphics, memory and PCI Express controllers support onboard graphics output with dedicated chipsets, two-channel (2-DIMM) DDR4 memory and 16 PCI Express lanes for exceptional performance.
Learn more about the
ASUS B250 MINING EXPERT