Description
What is mining on Deeper Connect Device?
Deeper Connect devices offer a decentralized private network (DPN), enterprise-class cyber-security and Web 3.0 gateway features. In addition, it is also a node on Deeper Chain which follows the Proof of Credit (PoCr) consensus algorithm. By participating in Deeper Chain's PoCr, users can also earn $DPR tokens through their contribution to the Deeper Network, which is Deeper Network mining. There are different levels of mining. Genesis node mining (highest mining rewards), pro-mining and basic mining.
Will Deeper Connect devices be able to mine DPR?
Deeper Network has decided to add the mining feature in an effort to grow the network. Users can apply to have their device added to the Deeper Chain one month after mainnet launches. Deeper Network then plans to gradually open the mining function on devices in an effort to monitor the health of the network. Users who want to participate in mining will first have to stake 1,000 $DPR to place their node on the Deeper Chain and start with a credit score of zero. Users then have the option to stake 5,000–100,000 $DPR to elevate credit scores to increase their mining rewards. See chart below:
How do we participate in basic mining?
Users must contribute to the network by connecting to the internet and sharing bandwidth. Once on the Deeper Chain, basic miners start with a credit score of 0 and must grow their organic credit score to 100 before DPR can be earned.
What Can Deeper Connect Mini Help with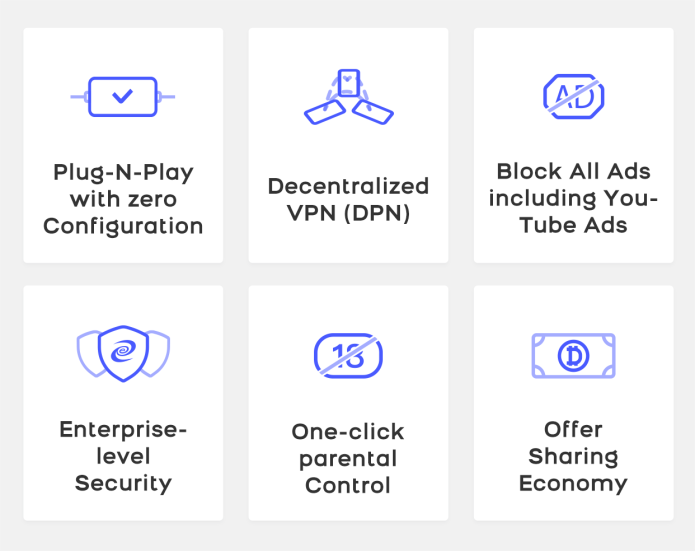 No Annual Fees or Subscriptions
Coming fully loaded with DPN (Decentralized VPN), Ad blocking, and Cybersecurity features, the Deeper Connect Mini can save you over US$ 600 a year compared to subscribing to similar individual services. 
Plug-and-Play Zero Configuration
Deeper Connect Mini  is a truly all-in-one solution requiring minimal configuration to connect to all your devices, with the included Wi-Fi Adapter simply set up the Pico at home or on the go to enjoy all of its amazing features.
Enterprise-level cybersecurity
Deeper Connect offers enterprise-level cybersecurity service that shields from viruses and Trojans, prevents malicious tracking, detects intrusions and restores safety online. 7-layer enterprise grade firewall scans each packet and brings home the security of next-generation technology.
Ad Blocking
Deeper Connect is the world's first home network security device that can block encrypted Ads such as those on Youtube.
Block annoying Ads and pop-up windows, return to a pure Internet environment.
| | |
| --- | --- |
| Dimensions | 13 × 6.7 × 2 cm |
| Speed | 1Gbps |
| CPU | ARM64 4 cores |
| Memory | 2GB |
NOTE: Wifi Adapter sold separately.